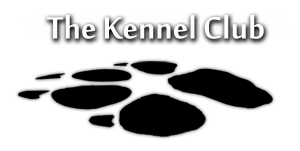 Alpha (founder)
*
Kique7
Alpha female (co-founder)
*
Meg006
Beta (moderator)
*
Stiir
Everything is © kennel club and can not be copied without permission.
When it comes to dog breeding and competing on dA this is the right place for you.
Kennel club is currently the biggest dog art kennel group on dA.This club is always active and contests are held often, we also advertise other kennels contests as a bonus.
We do not show off or put people in categories on who is a better kennel owner based on how many titles or drawings they give their dogs, we treat everyone with the respect they deserve and we know everyone who joins our club are lovers of the dog world and highly welcomed here no matter if you are just a breeding kennel or a kennel who reaches for titles.
TKC is extremely active every month and we are quick with answers and support.
We have several people helping out in this group to make sure that everything is running smoothly and people get quick replies.
Want to join? Come on down! There are no complicated processes; just simply hit the join button and you will be approved. We look forward to new faces and we hope your time here is an enjoyable one filled with happy memories and new friends.


"When I first saw this group I thought is was the like THE dog art role pay group. I also right at first, got the impression of the a very kind staff that will answer all questions. It was also very well organized. From the folders to the helpful links on the front page. The only thing I DIDNT like as a new beginner was it just how large the group was and how good of an artist everyone was, and that was the only thing that made me hesitate to join. But later I realized just how much possibilities this group give for every breed and the easy to follow point system. Also I love that you guys will involve all the regular members in decisions and many other things.
This is still my favorite DARPG group."- From our "Your first impression" journal.
TKC is the first darpg group to have a title system, weekly conformation show, CGC test, Service dog certificate, Dog Park(draw for points) Pedigree health testing, Breeder of Merit award.



Group Advertisement
Groups made by our fellow TKC members.


Flat Coated Retriever Club. Not just for flat coats, all retriever breeds welcome.


Dedicated to bring you dog-job based titles and training.